Send Inquiry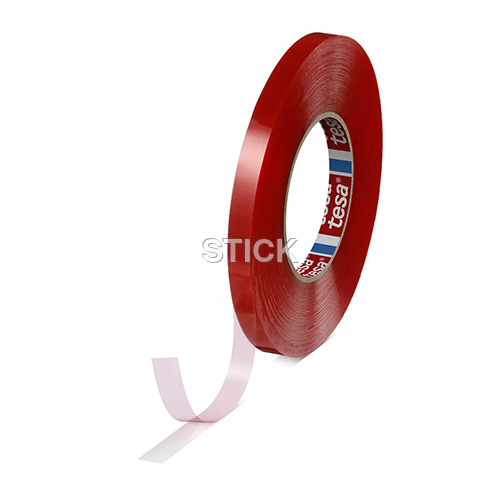 Product Specifications
Single-Layer

Other

Micrometer Double Sided
Trade Information
10000 Roll Per Month

7-10 Days
Product Description
205 Micrometer Double-sided filmic tape, also known as double-sided film tape or double-coated film tape, is a type of adhesive tape that has adhesive coatings on both sides of a thin, flexible film. This design allows the tape to stick to two surfaces simultaneously, creating a strong and permanent bond between them. The filmic backing is typically made from materials like polyester, polyethylene, or polypropylene, which provide strength and durability to the tape.
Double-sided filmic tape is widely used in various industries and applications, including:
1. Mounting and bonding: It is commonly used for attaching objects together, such as mounting signs, posters, nameplates, and displays. The tape's adhesive properties enable a clean and neat appearance without the need for visible fasteners.
2. Splicing: In manufacturing and printing processes, double-sided filmic tape is used for splicing materials together. It joins the end of one roll to the beginning of another, allowing continuous production without interruptions.
3. Automotive industry: This tape is used for attaching various automotive components, including emblems, trims, and moldings, offering a secure bond that withstands environmental stresses.
4. Electronics: Double-sided filmic tape is utilized for affixing electronic components, securing flex cables, and mounting small devices in electronic assemblies.
5. Paper and print finishing: The tape is used in the bookbinding and print finishing industry to attach covers and pages, giving a clean and professional look.
6. Packaging: It can be used in specialized packaging applications, especially for lightweight and delicate items.
One of the main advantages of double-sided filmic tape is its ability to create a bond without leaving any visible residue or marks, as is often the case with traditional adhesive tapes. Additionally, it provides a more uniform bond and better conformability to irregular surfaces due to its thin and flexible film backing.
Different types of adhesives may be used on each side of the filmic tape, depending on the specific application requirements. Common adhesives include acrylic, rubber, or silicone-based adhesives, each offering different levels of adhesion strength and temperature resistance.
Enter Buying Requirement Details
We deal mainly in Gujarat, Maharashtra (Central India) and South India.